5 Best Water Purifiers for Home & Office Use in India
The accessibility to clean drinking water has always been an issue in India, both in urban and rural areas. The poor water management, population growth, rapid urbanization, polluted river basins, increasing demand for clean water for drinking, are a few reasons, which are putting a strain on the country's water resources. India's water crisis is becoming more severe day by day.
Clean water is a basic human need. With water-borne diseases becoming a concern in the country, it is imperative to consume pure drinking water only. Despite government commitment to supply piped water to all households, the quality of water supplied to home has always been a concern.
It is the reason a water purifier has become an essential item for each household. However, selecting the right water purifier or home or office use is a daunting and confusing task, due to availability of the verity of manufacturers, size, and styles.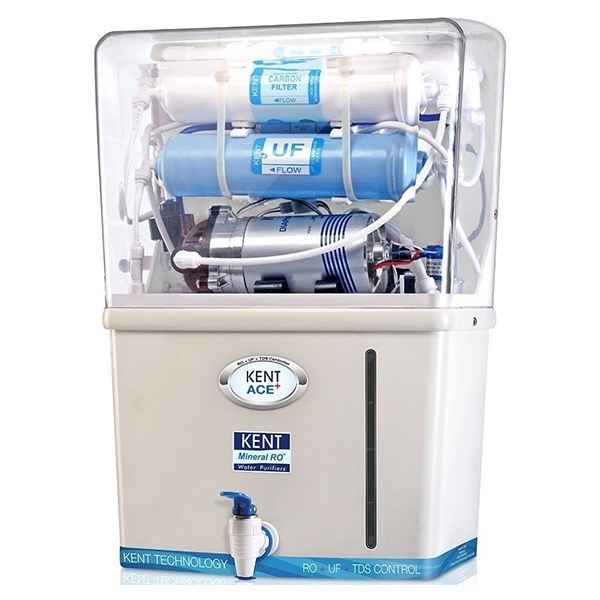 So, how to pick the best Water Purifier for home or office use? What are the features to look for in Purifier machine? Which is the best water purification technology suit to your need?
Well, when you talk about the best purifier in India, you will find that there are many brands like Kent, Pureit, Blue Star, Eureka Forbes available in different models with specific purification techniques, in the market.
Top 5 Water Purifiers for home and office use:
Kent Grand Plus 8-Litre Mineral RO and UV/UF Water Purifier
Kent Grand Plus is one of the most popular water purifiers in the Indian market. The device follows 7 stage purification process using RO, UV and UF technology. It is suitable for all kinds of water sources like tap, tank and groundwater. Kent Grand can purify water with TDS as high as 2000 ppm. Unlike most of RO filters, Kent's save water technology recovers more than 50% water as purified water and lets you store and use rejected waste-water for other purposes.
Blue Star Aristo RO+ UV Water Purifier
The water purifier machine offers a 6-stage purification process. It includes pre- sediment filter, pre and post activated carbon filters, UV lamp, RO membrane, and aqua taste booster. The Aqua taste booster maintains the PH level and enhances the taste of water. Best suited for Indian homes and offices, it provides purification capacity of up to 12 litres/hour with a storage capacity of 7 litres. UV system eliminates the impurities like viruses, bacteria, heavy metals, radioactive matter, and so on.
Eureka Frobes Smart Plus 6-litre RO+UV+MTDS Water Purifier
Eureka Frobes, one of India's leading Health and Hygiene Company is a reputed manufacturer of water purifier and other appliances. Work on double purification technology, the purifier comes with MTDS controller and energy-saving capability. Its PRE CARBON FILTER (Chemi Block) eliminates excess chlorine, organic impurities and absorbs terrible taste and odour from the water.
Aquasure from Aquaguard Delight RO+UV+MTDS Water Purifier
Comes with the best-in-class purification technologies, the appliance features multi-stage water purification process that provides clean, safe, tasty drinking water. It can quickly treat the water having input TDS of 2000PPM and can reduce the TDS up to 90%. It equipped with an advanced TDS controller that allows you to adjust the taste and TDS water level as per requirement. Its filter cartridges can last for around a year and purify 6,000 litres of water. It features 3 LED indicators for Power On, Purification Process On/Off, and Tank full.
KENT Superb Star RO+UV+UF+TDS Controller Water Purifier
Kent superb star offers rigorous RO+UF double purification process that removes even dissolved impurities such as bacteria, viruses, and salts from water. Suitable for Indian homes and offices, its patented RO technology uses TDS controller to retain the essential nutrient in the water.